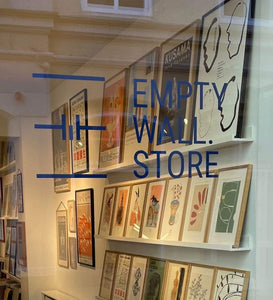 Gift Card - EMPTY WALL
Regular price
34,00€
Unit price
per
Tax included.
Shipping
calculated at checkout.
Full details →
---
Share this Product
Let's take responsibility together!
1 Purchased product = 1 tree planted, protected or restored!
For every poster you buy, you plant a tree in Myanmar in collaboration with EMPTY WALL and the Global Climate Institute. Trees are crucial to the earth's climate, as they bind and thus reduce the amount of CO².
All our Hahnemühle art paper is acid free and FSC labeled and our tubes are made from 100% recycled card bord.
Still, we thought it makes sense to do something extra because we believe in shopping with attitude!
We hope it makes sense to you - it does for us!
Read more about the Global Climate Institute at www.globalclimateinstitute.com
Sustainability and Quality
No chemicals are used when printing art prints in Fine Art quality.
All our Hahnemühle art paper is acid free and FSC labeled just like our frames.
We print with the latest and most economical printing technology supplied by Canon.
We are using not less than12 acid-free colours to obtain the highest possible quality.
We have a strong focus on sustainability also when we are packaging and shipping your goods. All our cardboard is made from 100% recycled material.
Support the art
A very big part of who we are at EMPTY WALL is the artists.
The artists at EMPTY WALL are paid fairly. They receive a cut of the selling price when we sell one of their art prints.
We are working with artists from all over the world and new ones are joining the community every month.
We take pride in creating a mix of well known and established artists as well as new up coming artists.

All our artists are carefully curated in Copenhagen, and all contribute to creating a unique collection that is only available at EMPTY WALL.