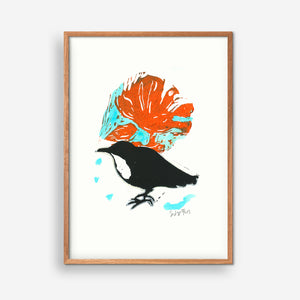 EMPTY WALL
Starling on Turquoise - Sidse Friis
Regular price
40,00€
0,00€
Unit price
per
Tax included.
Shipping
calculated at checkout.
Sidse Friis is a Danish artist with deep root in the Nordic nature and culture. She spend several years in Norther Norway and Greenland.
Her close connection and fascination with nature is clearly seen in her art.
Printed on 210 g Hahnemühle art paper. Fits standard frames. Frame is not included.

Packed and shipped in a protective card board tube .
✔︎ Sustainable produced on acid-free high-quality Hahnemühle art paper in Giclee print quality!
✔︎ 1 purchased product = 1 tree planted, protected or restored!
There are many differences between posters and art prints. The biggest is quality. You can see the difference at first glance.  Some prints appear with depth and strong shades, while others look matte and grey, with very faint shades. We will try to explain the difference here.
Mass-produced offset posters
On the one hand you have mass-produced offset posters. These are not the works you would like to have on your wall.  They are printed in large editions on cheap paper and produced only with four colours: cyan, magenta, yellow and black. These posters seem a little dull in colours and shades and with almost visible colour remnants that can appear as small dots. In offset production, one can print several hundred posters per minute.
Such posters are often greyish and not very durable. They fade quickly and it's a shame if you spend money on putting them in a nice frame!
Our quality - Fine Art Prints
On the other hand you have US with OUR fine art prints. Let's be honest – our production IS time consuming. In fact, it typically takes up to 10 minutes to produce one print. But it's worth it!
We print on absolutely acid-free paper from Hahnemühle. Hahnemühle, which is considered to be the world's leading manufacturer of paper. Hahnemühle is superb and absolute finest of its kind.
In our process, we are not using oil-based paints - as in offset - but instead we use environmentally friendly watercolours. The watercolours and the technique ensure that the colours are lightfast and are reproduced as well as possible at all. The watercolours are sprayed on in micro spray and we use 11 colours. The many colours ensure the contrast and depth, which means the art print is completely different than, for example, in offset printing.
The complete art print has a much higher resolution. In fact, up to three times higher than normal poster prints. It's lifetime is + 100 years.
It goes without saying that production costs are far higher and much more time consuming. Therefore, Giclee prints, as the technique is often called, are usually quite expensive.
Your benefits as a customer
We keep the price down to a very acceptable level because we sell directly from the printing company to you as a customer. Giclee printing in many cases can end up costing several thousand dollars before it reaches the end-customer. This happens if there are too many dealerships to profit from resale and distribution.
We avoid this by selling directly to you. In other words, we sell real Fine Art art prints at poster prices!
What's most important – this form of production is much more environmentally friendly than offset one. If you sum it up with highest quality and reasonable price you will find out that our fine art prints are the best choice.
---
Share this Product
---